Meritor MBSK Brake Pad Kits: Easy and Quick Maintenance of Semi-trailer Drum Brakes
2022-03-13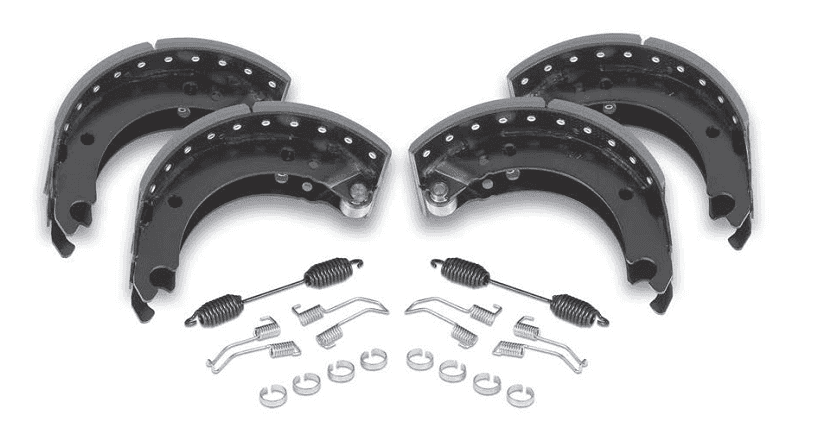 Contents
Meritor MBSK is a ready-to-use solution for quick replacement
Unique friction composition and excellent product range
Meritor MBSK brake pad kits are ready-to-use solutions for high-quality, quick maintenance of semi-trailer drum brakes. All the necessary parts to replace worn pads are included in the kits. High precision execution and quality friction composition ensure the safe operation of the semi-trailer, minimizing the risk of brake failure.
A well-built assortment of Meritor MBSK kits makes them suitable for the most famous European semi-trailers. Drum brakes are a popular solution for trailers and semi-trailers.
The traditional friction replacement of the trailer's drum brake pads requires plenty of time. For a triaxial semi-trailer, six brake mechanisms must be serviced, updating 12 pads, replacing 24 frictions on them, while installing 8 to 10 rivets onto each one. A significant amount of labor is required to do this work in the semi-trailer park area.
Meritor, a supplier of the original brake system components for leading European and American manufacturers of heavy commercial machinery, offers an excellent solution for maintaining semi-trailer drum brakes. Ready-to-use Meritor MBSK brake pad kits shorten the semi-trailers' downtime, significantly reducing their braking system maintenance duration.
Meritor MBSK - Ready-to-use solution for quick replacement
One Meritor MBSK kit is designed for a single axle. It includes 4 new pads with friction linings preinstalled in the factory and components required by the maintenance regulations, including coupling springs, rollers, and locking plates.
The kit allows you to quickly replace worn pads without dismantling the old ones, defecting the original ones, and riveting the new ones. When using Meritor MBSK kits, there is no need to equip the service area with a rivet press. Therefore, you save a significant amount of time when replacing the pads with our kit.
The components of the Meritor MBSK kits are entirely new. They don't include any restored parts. When applying the pads, the exact geometry of their fit must be observed, with the appropriate type of rivets and materials, which reduces the probability of damage or complete breakdown of the friction.
A completely new pad does not have backlashes or other deviations, which often happens with the original, used pad. The installation of factory-assembled pads significantly increases the operational safety of even fully loaded semi-trailers, minimizing the risk of brake failure.
Unique friction composition and excellent product range
Meritor MBSK pad linings friction material provides excellent brake performance with high durability of the linings and less intensive wear of the brake drums. The 720 friction mixture used in linings doesn't contain prohibited harmful materials and fully meets the ECE R90 requirements.
Therefore, Meritor MBSK semi-trailers can drive around the entire European territory freely.
Effortless shopping
Offers Near You

Competitive Prices

Full Information

40 Million Spares

Trusted Sellers