DAYCO KTBWP7940 Water Pump & Timing Belt Kit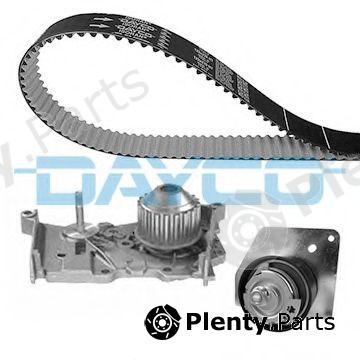 Product Details
| | |
| --- | --- |
| Brand | DAYCO |
| DAYCO article (MPN) | KTBWP7940 |
| Vehicle subsystem | Cooling System |
Aftermarket cross reference/interchange guide
The aftermarket competitive interchanges for DAYCO offered by INA, SKF manufacturers.
| | |
| --- | --- |
| Manufacturer | Reference numbers |
| INA | 530060430 |
| SKF | VKMC06009 |
Vehicle fitment
This product (DAYCO KTBWP7940) fits the following models: DACIA DOKKER, DACIA DOKKER EXPRESS, DACIA LODGY, DACIA LOGAN EXPRESS, DACIA LOGAN II, DACIA LOGAN, DACIA LOGAN MCV, DACIA SANDERO, DACIA SANDERO II, LADA LARGUS, RENAULT KANGOO EXPRESS, RENAULT KANGOO GRAND KANGOO, RENAULT LOGAN EXPRESS, RENAULT LOGAN I, RENAULT SYMBOL I, RENAULT THALIA I, RENAULT TONDAR 90 I, etc. See all vehicles this product fits below.
Make
Model
Variant
Period
Engine
Drive
Body Style
DACIA
DOKKER


1.6
1.6 LPG

2012/11‑

K7M812 83 л.с. 1.6 л. Бензин
K7M828 83 л.с. 1.6 л. Бензин

передний

универсал

DACIA
DOKKER EXPRESS


1.6
1.6 LPG

2012/12‑

K7M812 83 л.с. 1.6 л. Бензин
K7M828 83 л.с. 1.6 л. Бензин

передний

фургон

DACIA
LODGY


1.6
1.6 LPG

2012/03‑

K7M812 83 л.с. 1.6 л. Бензин
K7M828 83 л.с. 1.6 л. Бензин

передний

универсал

DACIA
LOGAN EXPRESS
FS

1.4
1.6
1.6 MPI 85

2009/03‑

K7J710 75 л.с. 1.4 л. Бензин
K7M710 87 л.с. 1.6 л. Бензин
K7M800 84 л.с. 1.6 л. Бензин

передний

фургон

DACIA
LOGAN II


1.6 16V

2013/01‑

K4M842 105 л.с. 1.6 л. Бензин

передний

седан

DACIA
LOGAN
LS
US

1.4 MPI LPG
1.6
1.6 Bifuel
1.6 MPI 85

LS0C
LSOB
LSOD
LSOF
LSOH

2004/09‑

K7J710 75 л.с. 1.4 л. Бензин
K7J714 75 л.с. 1.4 л. Бензин
K7M710 87 л.с. 1.6 л. Бензин
K7M718 84 л.с. 1.6 л. Бензин
K7M800 84 л.с. 1.6 л. Бензин

передний

пикап
седан

DACIA
LOGAN MCV
KS

1.4
1.6
1.6 Bifuel
1.6 MPI 85

2007/02‑

K7J710 75 л.с. 1.4 л. Бензин
K7M710 87 л.с. 1.6 л. Бензин
K7M800 84 л.с. 1.6 л. Бензин

передний

универсал

DACIA
SANDERO


1.4
1.4 MPI LPG
1.6
1.6 MPI 85

2008/06‑

K7J710 75 л.с. 1.4 л. Бензин
K7J714 72 л.с. 1.4 л. Бензин
K7M710 87 л.с. 1.6 л. Бензин
K7M800 84 л.с. 1.6 л. Бензин

передний

хэтчбек

DACIA
SANDERO II


1.6

2012/11‑

K7M812 83 л.с. 1.6 л. Бензин

передний

хэтчбек

LADA
LARGUS


1.6

2012/03‑

VAZ-K7M 84 л.с. 1.6 л. Бензин

передний

универсал
фургон

RENAULT
KANGOO EXPRESS
FW0/1

1.6

2008/02‑

K7M750 87 л.с. 1.6 л. Бензин

передний

фургон

RENAULT
KANGOO GRAND KANGOO
KW0/1

1.6
KW00
KW0Y

2008/02‑

K7M750 87 л.с. 1.6 л. Бензин

передний

вэн

RENAULT
LOGAN EXPRESS


1.6

2007/04‑

K7M710 87 л.с. 1.6 л. Бензин

передний

фургон

RENAULT
LOGAN I
KS
LS

1.4
1.6

2004/09‑

K7J710 75 л.с. 1.4 л. Бензин
K7M710 87 л.с. 1.6 л. Бензин

передний

седан
универсал

RENAULT
SYMBOL I
LB0/1/2

1.6

1998/03‑

K7M746 90 л.с. 1.6 л. Бензин

передний

седан

RENAULT
THALIA I
LB0/1/2

1.6

1998/03‑

K7M746 90 л.с. 1.6 л. Бензин

передний

седан

RENAULT
TONDAR 90 I
KS
LS

1.4
1.6

2004/09‑

K7J710 75 л.с. 1.4 л. Бензин
K7M710 87 л.с. 1.6 л. Бензин

передний

седан
универсал