SNR R15369 Wheel Bearing Kit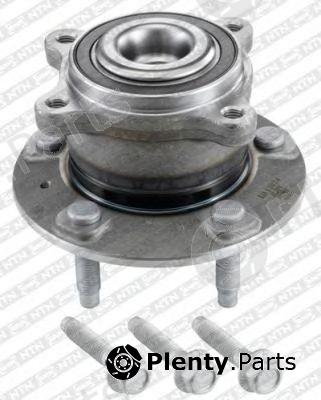 SNR R15369 Wheel Bearing Kit
by
SNR
---
Manufacturer Part Number: R15369
No. of holes 1: 3
No. of holes 2: 5
Weight [g]: 4261
› See more product details
Product Details
| | |
| --- | --- |
| Brand | SNR |
| SNR article (MPN) | R15369 |
| Vehicle subsystem | Wheel Suspension |
Original (OEM) part numbers
Suitable for CHEVROLET / DAEWOO, OPEL, VAUXHALL vehicles
| | |
| --- | --- |
| OE manufacturer | OEM reference numbers |
| CHEVROLET / DAEWOO | 13591999, 13577407 |
| OPEL | 328037, 328003, 328008 |
| VAUXHALL | 13591999, 13577407, 13502873 |
Aftermarket cross reference/interchange guide
The aftermarket competitive interchanges for SNR offered by ASVA manufacturers.
| | |
| --- | --- |
| Manufacturer | Reference numbers |
| ASVA | OPWH-AJ16R |
Vehicle fitment
This product (SNR R15369) fits the following models: CHEVROLET CRUZE, CHEVROLET ORLANDO, OPEL ASTRA GTC J, OPEL ASTRA J, OPEL ASTRA J S, OPEL CASCADA, OPEL ZAFIRA C, OPEL ZAFIRA C, VAUXHALL ASTRA GTCVI, VAUXHALL ASTRAVI, VAUXHALL CASCADA, VAUXHALL ZAFIRAIII, etc. See all vehicles this product fits below.
Make
Model
Variant
Period
Engine
Drive
Body Style
CHEVROLET
CRUZE
J300
J305
J308

1.4
1.6
1.7 D
1.7 TD
1.8
2.0 CDI
2.0 TD
VCDi

2009/05‑

2H0 141 л.с. 1.8 л. Бензин
2H0 141 л.с. 1.8 л. Бензин
F18D4 141 л.с. 1.8 л. Бензин
A14XER 101 л.с. 1.4 л. Бензин
LDD 101 л.с. 1.4 л. Бензин
A14XER 101 л.с. 1.4 л. Бензин
LDD 101 л.с. 1.4 л. Бензин
LUJ 140 л.с. 1.4 л. Бензин
A17DTE 110 л.с. 1.7 л. Дизель
A17DTE 110 л.с. 1.7 л. Дизель
LUD 131 л.с. 1.7 л. Дизель
F16D3 109 л.с. 1.6 л. Бензин
F16D4 113 л.с. 1.6 л. Бензин
F16D4 124 л.с. 1.6 л. Бензин
LDE 117 л.с. 1.6 л. Бензин
LDE 124 л.с. 1.6 л. Бензин
LXT 109 л.с. 1.6 л. Бензин
LXV 109 л.с. 1.6 л. Бензин
F16D4 117 л.с. 1.6 л. Бензин
F16D4 124 л.с. 1.6 л. Бензин
F18D4 140 л.с. 1.8 л. Бензин
F18D4 141 л.с. 1.8 л. Бензин
LDE 117 л.с. 1.6 л. Бензин
LDE 124 л.с. 1.6 л. Бензин
LNP 163 л.с. 2 л. Дизель
LNP 163 л.с. 2 л. Дизель
Z20D1 163 л.с. 2 л. Дизель
Z20DMH 150 л.с. 2 л. Дизель
Z20S1 125 л.с. 2 л. Дизель
Z20S1 150 л.с. 2 л. Дизель
LUD 131 л.с. 1.7 л. Дизель
Z20DMH 150 л.с. 2 л. Дизель
Z20S1 150 л.с. 2 л. Дизель

передний

седан
универсал
хэтчбек

CHEVROLET
ORLANDO
J309

1.4
1.8
2.0 D

2011/02‑

2H0 141 л.с. 1.8 л. Бензин
F18D4 141 л.с. 1.8 л. Бензин
LUJ 140 л.с. 1.4 л. Бензин
Z20D1 131 л.с. 2 л. Дизель
Z20D1 163 л.с. 2 л. Дизель

передний

вэн

OPEL
ASTRA GTC J


1.4
1.6
1.6 CDTI
1.6 SIDI
1.7 CDTI
2.0
2.0 BiTurbo CDTI
2.0 CDTI

2011/10‑

A14NEL 120 л.с. 1.4 л. Бензин
A14NET 140 л.с. 1.4 л. Бензин
A14XER 101 л.с. 1.4 л. Бензин
B14NEL 120 л.с. 1.4 л. Бензин
B14NET 140 л.с. 1.4 л. Бензин
A16LET 180 л.с. 1.6 л. Бензин
A16XHT 170 л.с. 1.6 л. Бензин
B16SHL 170 л.с. 1.6 л. Бензин
A17DTC 110 л.с. 1.7 л. Дизель
A17DTE 110 л.с. 1.7 л. Дизель
A17DTF 131 л.с. 1.7 л. Дизель
A17DTJ 110 л.с. 1.7 л. Дизель
A17DTS 131 л.с. 1.7 л. Дизель
A20DTH 165 л.с. 2 л. Дизель
A20DTR 194 л.с. 2 л. Дизель
A20NFT 280 л.с. 2 л. Бензин
B20NFT 280 л.с. 2 л. Бензин
B16DTH 136 л.с. 1.6 л. Дизель
B16DTL 110 л.с. 1.6 л. Дизель

передний

хэтчбек

OPEL
ASTRA J


1.3 CDTI
1.4
1.4 LPG
1.4 Turbo
1.6
1.6 CDTi
1.6 SIDI
1.6 Turbo
1.7 CDTI
2.0 BiTurbo CDTI
2.0 CDTI

2009/12‑

A13DTE 95 л.с. 1.3 л. Дизель
A14NEL 120 л.с. 1.4 л. Бензин
A14NET 140 л.с. 1.4 л. Бензин
B14NEL 120 л.с. 1.4 л. Бензин
A14NET 140 л.с. 1.4 л. Бензин
A14XEL 87 л.с. 1.4 л. Бензин
A14XER 100 л.с. 1.4 л. Бензин
A16LET 180 л.с. 1.6 л. Бензин
A16XER 115 л.с. 1.6 л. Бензин
B16XER 115 л.с. 1.6 л. Бензин
A16XHT 170 л.с. 1.6 л. Бензин
A16XHT 170 л.с. 1.6 л. Бензин
B16SHL 170 л.с. 1.6 л. Бензин
A17DTC 110 л.с. 1.7 л. Дизель
A17DTE 110 л.с. 1.7 л. Дизель
A17DTF 131 л.с. 1.7 л. Дизель
A17DTJ 110 л.с. 1.7 л. Дизель
A17DTR 125 л.с. 1.7 л. Дизель
A17DTS 131 л.с. 1.7 л. Дизель
A20DTH 160 л.с. 2 л. Дизель
A20DTH 165 л.с. 2 л. Дизель
A20DTR 194 л.с. 2 л. Дизель
B16DTH 136 л.с. 1.6 л. Дизель
B16DTL 110 л.с. 1.6 л. Дизель

передний

седан
хэтчбек

OPEL
ASTRA J S


1.3 CDTI
1.4
1.4 LPG
1.4 Turbo
1.6
1.6 CDTi
1.6 SIDI
1.6 Turbo
1.7 CDTI
2.0 BiTurbo CDTI
2.0 CDTI

2010/10‑

A13DTE 95 л.с. 1.3 л. Дизель
A14NEL 120 л.с. 1.4 л. Бензин
A14NET 140 л.с. 1.4 л. Бензин
B14NEL 120 л.с. 1.4 л. Бензин
B14NET 140 л.с. 1.4 л. Бензин
A14NET 140 л.с. 1.4 л. Бензин
A14XER 101 л.с. 1.4 л. Бензин
A16LET 180 л.с. 1.6 л. Бензин
A16XER 116 л.с. 1.6 л. Бензин
B16XER 116 л.с. 1.6 л. Бензин
A16XHT 170 л.с. 1.6 л. Бензин
B16SHL 170 л.с. 1.6 л. Бензин
A17DTC 110 л.с. 1.7 л. Дизель
A17DTE 110 л.с. 1.7 л. Дизель
A17DTF 131 л.с. 1.7 л. Дизель
A17DTJ 110 л.с. 1.7 л. Дизель
A17DTR 125 л.с. 1.7 л. Дизель
A17DTS 131 л.с. 1.7 л. Дизель
A20DTH 160 л.с. 2 л. Дизель
A20DTH 165 л.с. 2 л. Дизель
A20DTR 194 л.с. 2 л. Дизель
B16DTH 136 л.с. 1.6 л. Дизель
B16DTL 110 л.с. 1.6 л. Дизель

передний

универсал

OPEL
CASCADA
W13

1.4
1.4 Turbo
1.6 SIDI
2.0 CDTI

2013/03‑

A14NEL 120 л.с. 1.4 л. Бензин
A14NET 140 л.с. 1.4 л. Бензин
A16XHT 170 л.с. 1.6 л. Бензин
A20DTH 165 л.с. 2 л. Дизель
A20DTR 194 л.с. 2 л. Дизель

передний

кабрио

OPEL
ZAFIRA C
P12

1.4
1.4 LPG
1.6 CDTI
1.6 CNG
1.6 SIDI
1.8
2.0 BiTurbo CDTI
2.0 CDTi

2011/10‑

A14NEL 120 л.с. 1.4 л. Бензин
A14NET 140 л.с. 1.4 л. Бензин
B14NEL 120 л.с. 1.4 л. Бензин
B14NET 140 л.с. 1.4 л. Бензин
A14NET 140 л.с. 1.4 л. Бензин
B14NET 140 л.с. 1.4 л. Бензин
A16SHT 200 л.с. 1.6 л. Бензин
A16XHT 170 л.с. 1.6 л. Бензин
A16XNT 150 л.с. 1.6 л. Бензин
B16XNT 150 л.с. 1.6 л. Бензин
A18XEL 115 л.с. 1.8 л. Бензин
A18XER 140 л.с. 1.8 л. Бензин
A20DT 130 л.с. 2 л. Дизель
A20DTH 165 л.с. 2 л. Дизель
A20DTL 110 л.с. 2 л. Дизель
Y20DTJ 130 л.с. 2 л. Дизель
Z20DTJ 130 л.с. 2 л. Дизель
A20DTR 194 л.с. 2 л. Дизель
B16DTH 136 л.с. 1.6 л. Дизель
B16DTJ 120 л.с. 1.6 л. Дизель

передний

вэн

OPEL
ZAFIRA C
P12

1.4
1.4 LPG
1.6 CDTI
1.6 CNG
1.6 SIDI
1.8
2.0 BiTurbo CDTI
2.0 CDTi

2011/10‑

A14NEL 120 л.с. 1.4 л. Бензин
A14NET 140 л.с. 1.4 л. Бензин
B14NEL 120 л.с. 1.4 л. Бензин
B14NET 140 л.с. 1.4 л. Бензин
A14NET 140 л.с. 1.4 л. Бензин
B14NET 140 л.с. 1.4 л. Бензин
A16SHT 200 л.с. 1.6 л. Бензин
A16XHT 170 л.с. 1.6 л. Бензин
A16XNT 150 л.с. 1.6 л. Бензин
B16XNT 150 л.с. 1.6 л. Бензин
A18XEL 115 л.с. 1.8 л. Бензин
A18XER 140 л.с. 1.8 л. Бензин
A20DT 130 л.с. 2 л. Дизель
A20DTH 165 л.с. 2 л. Дизель
A20DTL 110 л.с. 2 л. Дизель
Y20DTJ 130 л.с. 2 л. Дизель
Z20DTJ 130 л.с. 2 л. Дизель
A20DTR 194 л.с. 2 л. Дизель
B16DTH 136 л.с. 1.6 л. Дизель
B16DTJ 120 л.с. 1.6 л. Дизель

передний

вэн

VAUXHALL
ASTRA GTCVI
J

1.4
1.6
1.6 CDTi
1.6 SIDI
1.7 CDTi
2.0 BiTurbo CDTI
2.0 CDTi
2.0 VXR

2011/10‑

A14NEL 120 л.с. 1.4 л. Бензин
A14NET 140 л.с. 1.4 л. Бензин
A14XER 101 л.с. 1.4 л. Бензин
B14NEL 120 л.с. 1.4 л. Бензин
B14NET 140 л.с. 1.4 л. Бензин
A16LET 180 л.с. 1.6 л. Бензин
A16SHT 200 л.с. 1.6 л. Бензин
A16XHT 170 л.с. 1.6 л. Бензин
B16SHT 200 л.с. 1.6 л. Бензин
A17DTC 110 л.с. 1.7 л. Дизель
A17DTE 110 л.с. 1.7 л. Дизель
A17DTF 131 л.с. 1.7 л. Дизель
A17DTJ 110 л.с. 1.7 л. Дизель
A17DTS 131 л.с. 1.7 л. Дизель
A20DTH 165 л.с. 2 л. Дизель
A20DTR 194 л.с. 2 л. Дизель
A20NFT 280 л.с. 2 л. Бензин
B20NFT 280 л.с. 2 л. Бензин
B16DTH 136 л.с. 1.6 л. Дизель
B16DTL 110 л.с. 1.6 л. Дизель

передний

хэтчбек

VAUXHALL
ASTRAVI
J
J
J

1.3 CDTi
1.3 CDTI
1.4
1.4 Turbo
1.6
1.6 CDTi
1.6 SIDI
1.6 Turbo
1.7 CDTi
1.7 CDTI
2.0 BiTurbo CDTI
2.0 CDTi

2009/12‑

A13DTE 95 л.с. 1.3 л. Дизель
A14NEL 120 л.с. 1.4 л. Бензин
A14NET 140 л.с. 1.4 л. Бензин
A14NET 140 л.с. 1.4 л. Бензин
A14XEL 87 л.с. 1.4 л. Бензин
A14XER 100 л.с. 1.4 л. Бензин
A14XER 101 л.с. 1.4 л. Бензин
A16LET 180 л.с. 1.6 л. Бензин
A16XER 115 л.с. 1.6 л. Бензин
B16XER 115 л.с. 1.6 л. Бензин
A16XER 116 л.с. 1.6 л. Бензин
A16XER 116 л.с. 1.6 л. Бензин
B16XER 116 л.с. 1.6 л. Бензин
A16XHT 170 л.с. 1.6 л. Бензин
A17DTC 110 л.с. 1.7 л. Дизель
A17DTE 110 л.с. 1.7 л. Дизель
A17DTF 131 л.с. 1.7 л. Дизель
A17DTJ 110 л.с. 1.7 л. Дизель
A17DTR 125 л.с. 1.7 л. Дизель
A17DTS 131 л.с. 1.7 л. Дизель
A17DTC 110 л.с. 1.7 л. Дизель
A17DTE 110 л.с. 1.7 л. Дизель
A17DTF 131 л.с. 1.7 л. Дизель
A17DTJ 110 л.с. 1.7 л. Дизель
A17DTS 131 л.с. 1.7 л. Дизель
A20DTH 160 л.с. 2 л. Дизель
A20DTH 165 л.с. 2 л. Дизель
A20DTR 194 л.с. 2 л. Дизель
B16DTH 136 л.с. 1.6 л. Дизель
B16DTL 110 л.с. 1.6 л. Дизель

передний

седан
универсал
хэтчбек

VAUXHALL
CASCADA


1.4
1.6
2.0 CDTI

2013/02‑

A14NEL 120 л.с. 1.4 л. Бензин
A14NET 140 л.с. 1.4 л. Бензин
B14NET 140 л.с. 1.4 л. Бензин
A16XHT 170 л.с. 1.6 л. Бензин
A20DTH 165 л.с. 2 л. Дизель
A20DTR 194 л.с. 2 л. Дизель

передний

кабрио

VAUXHALL
ZAFIRAIII
P12

1.4
1.4 LPG
1.6 CDTi
1.6 CNG
1.6 Turbo
1.8
2.0 BiTurbo CDTI
2.0 CDTi

2011/10‑

A14NEL 120 л.с. 1.4 л. Бензин
A14NET 140 л.с. 1.4 л. Бензин
B14NET 140 л.с. 1.4 л. Бензин
A14NET 140 л.с. 1.4 л. Бензин
A16XHT 170 л.с. 1.6 л. Бензин
A16XNT 150 л.с. 1.6 л. Бензин
A18XEL 115 л.с. 1.8 л. Бензин
A18XER 140 л.с. 1.8 л. Бензин
A20DT 130 л.с. 2 л. Дизель
A20DTH 165 л.с. 2 л. Дизель
A20DTL 110 л.с. 2 л. Дизель
Y20DTJ 130 л.с. 2 л. Дизель
Z20DTJ 130 л.с. 2 л. Дизель
A20DTR 194 л.с. 2 л. Дизель
B16DTH 136 л.с. 1.6 л. Дизель

передний

вэн